About the Workshop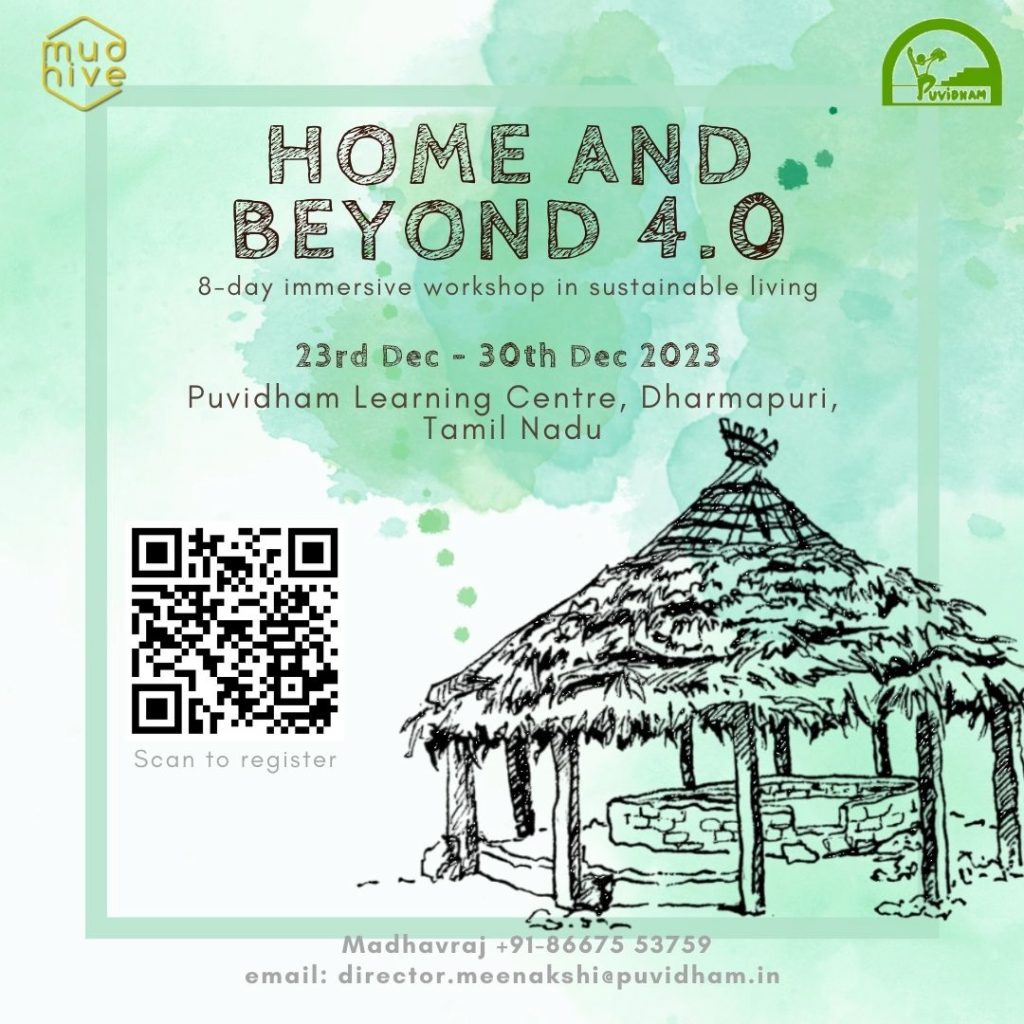 Click here to register for the workshop.
'Home and Beyond' is an immersive workshop in holistic living hosted at Puvidham Learning Centre in Dharmapuri, Tamil Nadu. The workshop is a hands-on learning experience with a focus on natural food, clothing and shelter. It is meant for people of all ages, particularly families who are keen to move towards a more sustainable way of living. The workshop will involve seven days of simple living and dedicated work with body, mind and heart. We will participate in the routine followed by the children of the school and learn with them. The workshop is offered as an experiential workshop and is not based on any text.
Here's a short video about our previous workshop.
To read a summary of the first edition of the workshop, you may go through this document.
Dates: 23rd  Dec to 30th Dec 2023.
Please plan your travel such that you are here by the morning of 23rd December and leave on the morning of 31st December, after the workshop is completed.
Context
Many of us are becoming aware of the problem with the mainstream system and are looking for alternatives in different parts of our lives. Some of us are concerned about the poison in our food system, some of us wish to live in healthy earthy homes, while others wish to regain agency over their healthcare. But eating healthy isn't just about buying the right vegetables. Living in a mud home is more than building with mud, and good healthcare requires us to understand more than which herbs to consume for which illness. Each element of a healthy life is linked to other elements, and so there is a need to develop a holistic understanding. Finally, a question that many of us ask is: how do we live peacefully and have agency over our own lives?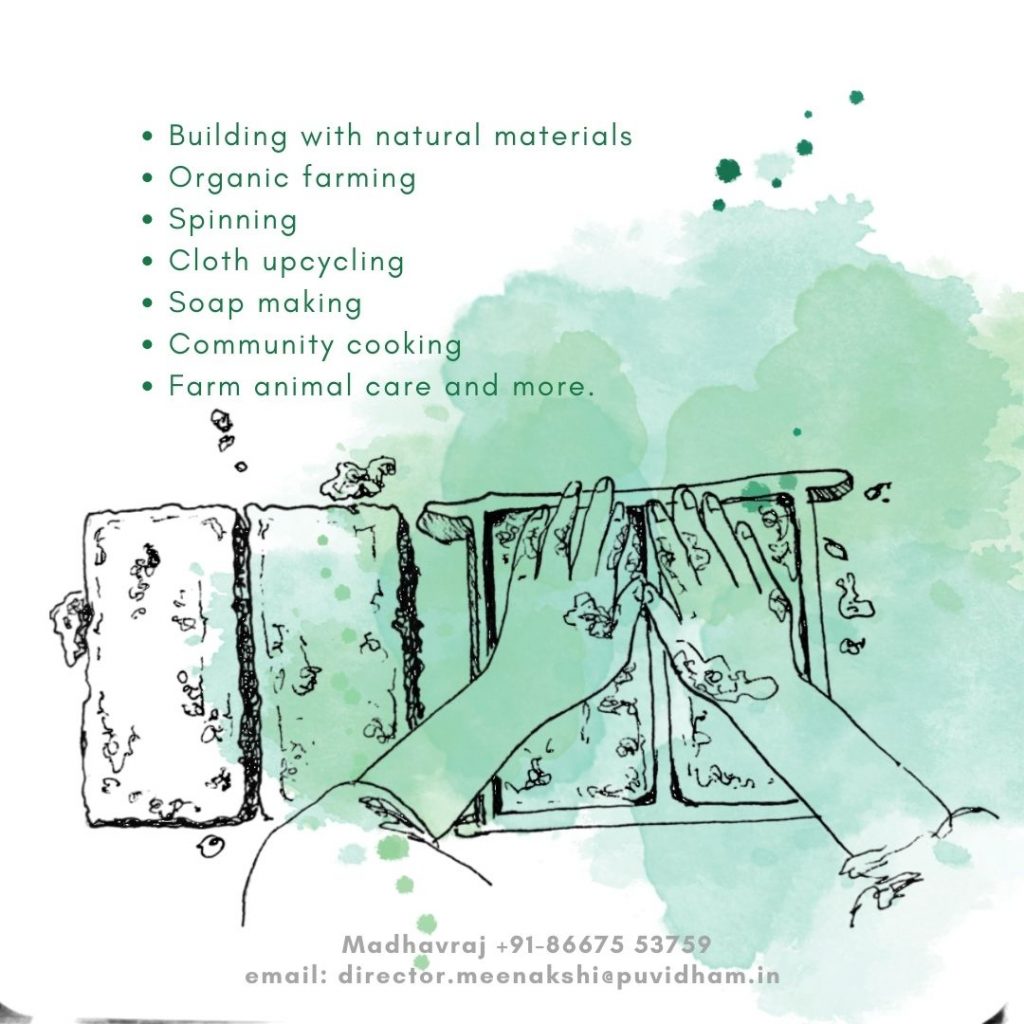 Location
Puvidham is a nature school in Dharmapuri, Tamil Nadu. It is a place which has been regenerated from a degraded landscape to a young forest in 30 years. Here the soil and water are revered, and living in harmony with nature becomes a way of life through work with body, mind and heart. It is a resource Center for learning (Self-) Interdependent living, building communities with egalitarian values. The architecture of the school incorporates natural materials and vernacular styles. The children follow a nature-based curriculum which involves growing and cooking their own food, taking care of animals, practicing crafts and understanding their surroundings. All of this is part of a philosophy focused on being self-reliant, creative and healthy.
Accommodation and Food
This is a residential workshop so accommodation and food will be at the school campus. Participants will live in dormitory style quarters and sleep on mats on the floor. The food will be simple and cooked by the participants themselves. Everyone will be using compost toilets on campus. Participants are requested not to bring plastics and chemical products. Chemical-free soap, shampoo, tooth powder and detergent are available at the school. We do not have Wi-Fi at the campus. Phone signals are average.
Registration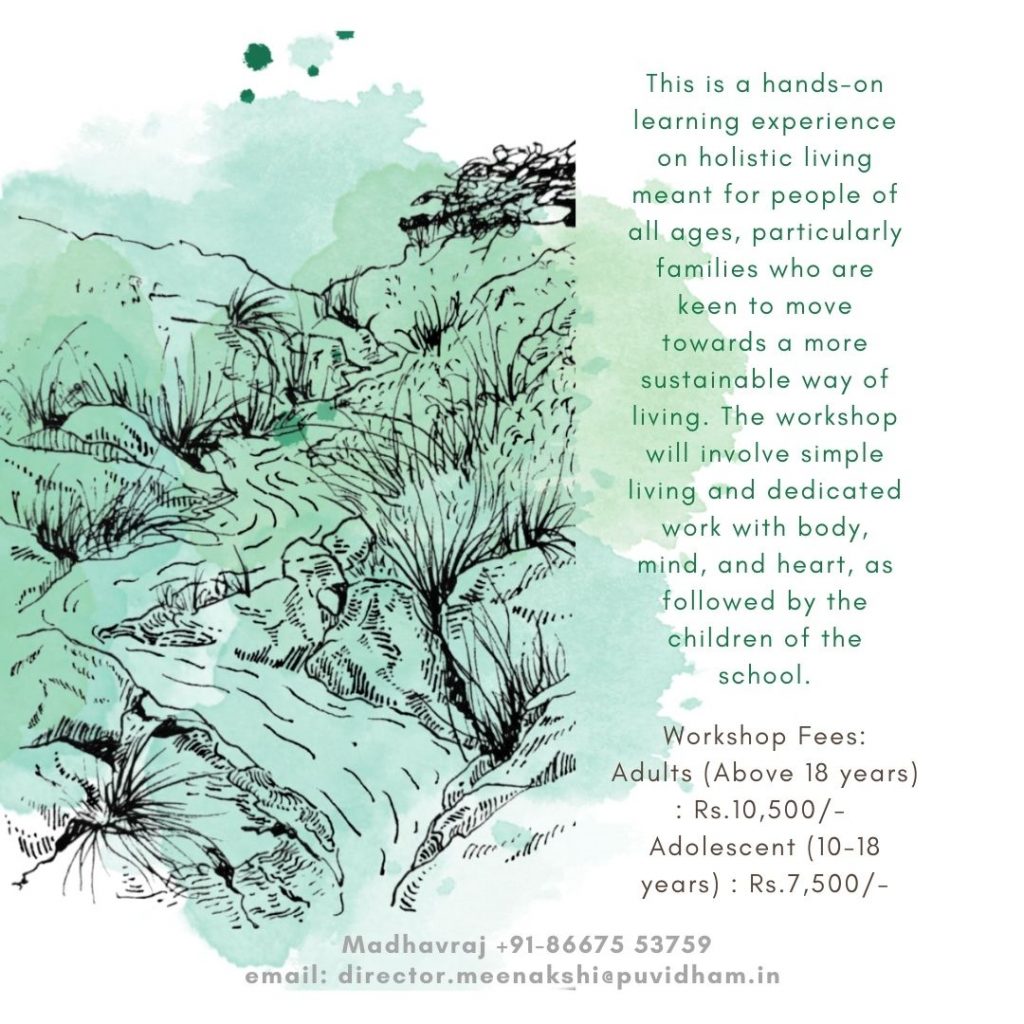 Workshop Fees:
Adults (Above 18 years):
Rs.10,500/- Adolescent (10-18 years): Rs.7,500/-
Children (Below 10 years): You can pay as you like.
The fees include food, accommodation and course fees.
Payment Details:
Account Name: PUVIDHAM RURAL DEVELOPMENT TRUST
Account Number – 605701316367
IFSC Code – ICIC0006057
PAN number – AAATP6338E
Once the payment is done, upload the receipt on the registration form.
All proceeds from this event act as direct donation to Puvidham Trust. If you'd like to have an 80G Receipt for your donation, please let us know.
Refund & Cancellation Policy
In case the event gets cancelled due to any unexpected reasons, the full amount paid will be refunded.
If you wish to cancel your registration 5 days before the workshop, 50% of course fees will be refunded.
After that, no refunds will be provided on cancellation of registration.
Get in touch
Contact: Madhavraj +91-8667553759
Email: Director.Meenakshi@Puvidham.in
Instagram: https://www.instagram.com/puvidham_/
Website: https://mudhive.in/